I never knew I would be that happy just to see the sky so clear and sunlight appearing. But the last 3 days have been AWFUL! I am a girl who loves rain, thunder and lightning, who wishes for loud thundering thunder after a lightning strikes. But I hated the last 3 days.
Source: DailyTelegraph AU
I'm surprised my umbrella still survived. We had very windy days, more that 40km/hour. When I used my mobile on the street, a couple of times it was almost blown away. My umbrella was turned upside down many many times. Actually, using or not using an umbrella might not be too much different anyway.
That's one lucky lady there. Most of us were looking like the one below.
Source: www.news.com.au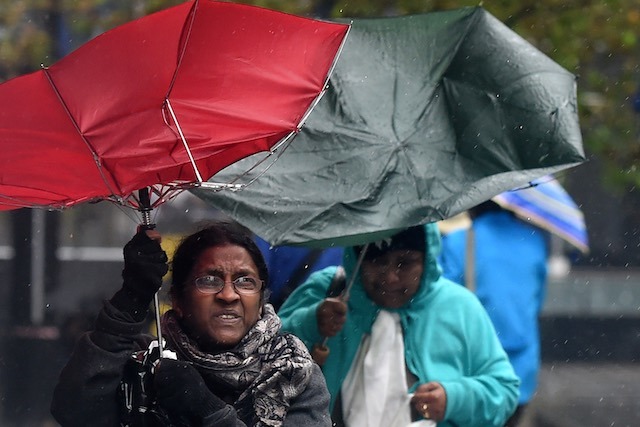 Source: www.rappler.com
My transport costs this week go through the roof -_- with rain and wind like that, I have to catch bus to station, and from station to work. In addition, we had to catch taxi home one time from station coz it was just so windy. Lucky my boss let us go a little bit early 2 days ago and gave us a lift to the station. Thus saving me $2.1 bus trip. I was very surprised actually that he let us go earlier. Well it was only half hour early, but still! He never EVER let us leave early. When the aircon broke while outside was 40+ degrees, we were only told to turn off the lights to lower the temperature a bit. When the power is out, we sat in the dark waiting for it to come back. The other department was not as lucky. They had to do filing in the dark. So of course this was not expected. But the premier issued an announcement to people to leave work earlier, so maybe that too?
Anyway I'm glad it's over. But I found out that during those 3 days, people are more friendly to strangers. When meeting people on the lift, making eye contacts while waiting for the train under the umbrella, waiting for cab, and on the train or busses, people are more likely to make comments, make casual conversation. I guess when people are in the same bad boat, it's easier to let down your guard and be friendly.